To most of us he seemed immutable, eternal, indestructible: Yasser Arafat, one of the most controversial men of our time.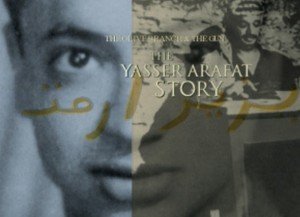 In this one-hour film, layer after layer of Arafat's life is peeled away to reveal a man plagued by inner conflicts, torn between the international pressure to achieve peace and his inner need for conflicts that affirm and demand his leadership.
Historical footage is interspersed with statements by Arafat himself and surprisingly candid comments by historians, members of his family, fellow freedom fighters and ordinary Palestinians.
Production Team
Director/Producer: Peter Löfgren & Folke Rydén
Executive Producer: Castro Khatib
Camera: Emil Larsson

Awards
2003 Gold Award winner – Worldfest Houston
2002 Bronze World Medal – The New York Festivals
2003 Certificate of Merit – Chicago International Television Awards
Reviews
"Excellent"
"Detailed, well researched and with new angles and questions"
"Pedagogical and well told"
Reviews Swedish
"En timmes tv-skola av Rydén…Metodisk berättande med mängder av intervjuer, detaljrikt, välresearchat och hela tiden med nya infallsvinklar och ifrågasättanden."
– Expressen, 2002
"Utmärkt program om Arafat…Pedagogiskt och väl berättat om en av det sena 1900-talets mest fascinerande och spektakulära politiker, dessutom med god känsla för personliga detaljer om Arafats förkärlek för Tom & Jerry-filmer och snabb bilkörning i en vit Ford Thunderbird"
– Aftonbladet, 2002
"Jag skulle kunna tänka mig att den grupp israeler som i alla lägen försvarar staten Israel kommer att uppfatta dokumentären om Arafat som antisemitism. Det brukar vara det vanliga svaret. Men jag kan också tänka mig att anhängare av Arafat ser filmen som ett utslag av propaganda för Israel, och därmed har väl dokumentärfilmarna uppnått så hög objektivitet som man kan begära."
– Göteborgsposten, 2002