Creativity – Curiosity – Science
A thrilling expedition with National Geographic Photographer Mattias Klum and tree young students to seven continents.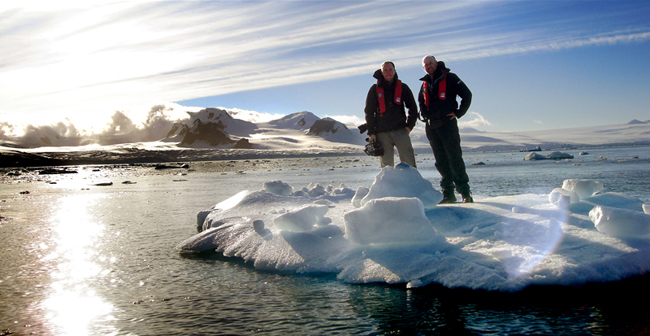 At the centre are crucial questions: How should we behave and act today in order to survive tomorrow and how can science and research contribute to a better world?
A film in conjunction with Carolus Linnaeus' 300 year Anniversary 2007.
Inspired by Linnaeus' curiosity and the thrill of discovery, the expedition meets some of the world's leading researchers and experts, who try to give answers to these questions.
The main characters are the expedition's three young would-be researchers, all in their twenties but with widely different backgrounds. They not only observe and investigate but also question what they discover with a critical mind. During the course of their journey they change. Deeply influenced by their impressions and experiences, they are not the same people at the end of the expedition as they were at the beginning.
The Linnaeus Expedition is produced by the international award-winning filmmaker Folke Rydén.
The film motivates and inspires new generations. How we should act and behave today – to save the world of tomorrow. Our future depends on our doings today and what Linnaeus once did – observe, be curious and safeguard the environment.
Welcome to The Linnaeus Expedition.
Production Team
Director/Producer: Folke Rydén & Mattias Klum
Co-production partners: SVT, Nordic United Publishing, Sandrew Metronome
In association with: The Royal Swedish Academy of Sciences
Website: www.expeditionlinne.se

Awards
2008 Finalist Award – New York Festivals
2007 Special Screening at the British Film Institute
Reviews
"Beautiful"
"The level of ambition is sky high and the content interesting"
"It's fast, it's sensationally beautiful and hopeful"
Swedish Reviews
"…resultatet är vackert"
– Dagens Nyheter
"…ambitionsnivån är skyhög, innehållet intressant, Klums stillbilder oändligt vackra, syftet viktigt…"
– Expressen
"..det går undan, det är svindlande fagert och hoppfullt…"
– Film.nu