Fishermen, scientists and politicians have – all in good faith – done their best to wipe out the Baltic Sea cod. And just as a historic recovery is about to take place, Baltic Sea fishermen dump tonnes of dead cod back into the sea every week. For Cod´s Sake reveals how and why.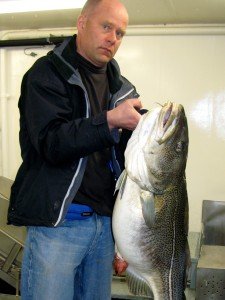 Fortunately, recent environmental conditions have – by chance – led to more cod in the Baltic. And the European Union proclaims it wants to save the species. But ironically, EU regulations force fishermen to discard thousands of dead cod – every day. And scientists advising the EU disagree heavily on the extent of the recovery.
So is the cod really back – or is a wipe-out still imminent?
Over two dramatic and decisive years Folke Rydén and the production team got up and close with fishermen, scientists, politicians and the cod itself.
Without the cod, the sea will be out of balance, the water filthy and fishermen will survive only as tourist attractions.
Production Team
Director/Producer: Folke Rydén
Co-director: Ryszard Solarz
Co-production partners: SVT and ZDF/arte
In association with: DR, YLE, ERR, LTV and TG4
With support from: Baltic Sea 2020 and MEDIA Programme of the European Union
Website: www.ourbalticsea.com

Awards & Nominations

2011 Awarded Best Foreign Film. On October 28, in Kiev Ukraine, at the 3rd International Film Festival of marine documentaries,
historical, adventure and television programs.
2011 Official Selection: For Cod´s Sake is selected for competition at Dunkirk first World Sea Film Festival in July 2011
2011 Award: For Cod's Sake was marked as the Best Foreign Film in St Petersburg, at the www.seafest.spb.ru
2011 Award: The Holmar-von-Ditfurth-Preis for best journalistic performance at the Ökofilmtour environment and nature film festival 2011, in Potsdam, Germany
2011 Official Selection: The 8th San Francisco Ocean Film Festival
2010 Award: The Anemoon Foundation Environmental Impact Award at the 4th North Sea Film Festival in Amsterdam
2010 Award: Envirofilm Festival Slovakia
2010 Official Selection: Green Screen International Wildlife Film Festival, Eckernförde, Germany
2010 Official Selection: Baltic Sea Forum for Documentaries, Riga, Lettland
2010 Official Selection: The nature and conservation competition at the German film festival NaturVision in Neuschönau.
Reviews
"For Cod's Sake investigates the net of EU fishery policy. The result is compelling"
"For Cod's Sake takes an in-depth look at the very serious and big problem of the Baltic Sea. The film seriously warns against a coming catastrophe and its consequences for the life of fish and man."
– Envirofilm Festival Jury motivation 2010
Reviews Swedish
Dokumentärfilmen Alla torskar av Folke Rydén (…) demonstrerar att politiken i bästa fall har få vinnare. Och en klar förlorare är torsken, Östersjöns mest värdefulla fisk. Den som alla säger sig värna. En stor del av det i ett historiskt perspektiv låga beståndet ruttnar idag bort på havets botten.  Alla torskar har synat nätet som EU:s fiskepolitik drar upp. Resultatet är angeläget. Tyvärr gör det inte politiken mer begriplig.
– Sydsvenskan 27/9 2009