The incredible story of one man's quest to fight terrorism and promote peace & love by flying hot air balloons over his war-torn country.
Murtada Al-Hachami loves his country. But he hates the world's perception of it as a land of war and destruction. After 18 years of forced exile he returns to his native Iraq. He is obsessed with the vision to attract investors and tourist by showcasing a beautiful and welcoming paradise. How? By having the world best hot air balloon pilots peacefully flying their gigantic inflated vessels over Babylon and ancient Mesopotamia, the birthplace of human arts and culture. But at the same time a new terrorist organization  is beleaguering the war torn country and far from everyone share his dream. As Murtada puts it: "One day you will find me shot for what I'm doing."
Release 2018

For this high-risk project, Folke Rydén Production hired cinematographer Sven Lindahl and
journalists Donald Boström and Lina Malers for their unique knowledge about the Middle
East and their expertise working in dangerous locations. Donald Boström co-directed on location in Iraq, Sweden and Holland.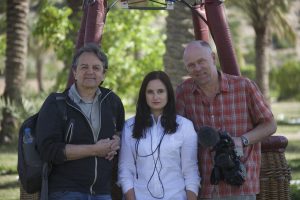 Donald Boström, Lina Malers and Folke Rydén on location in Babylon